Fulfilling Lokmanya's Dream of Imparting National Education To Face Global Challenges......
Vice Chancellor's Message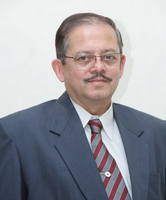 Dr. Deepak J. Tilak
Vice Chancellor



Enjoy Learning


More than teaching process, it is a learning process. When the ambience and environment are condusive, learning naturally happens. We have created an ambience, where learning naturally takes place. Tilak Maharashtra Vidyapeeth is a national heritage and has established 97 years back as a memorial of Lokmanya Tilak, an unparelleled freedom fighter of India. The establishment of the Vidyapeeth is with a noble cause and has never been a commercial venture. We carry the legacy of National Education and take it responsibly ahead. I feel that education should be a joyful process. It should never be a burden. Our faculty takes pride in being part of the TMV and enjoys teaching, so students also enjoy learning and pass out not only as graduates, but as responsible citizens of the country.