Fulfilling Lokmanya's Dream of Imparting National Education To Face Global Challenges......
Vice Chancellor's Address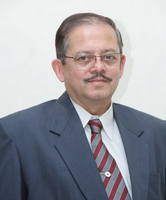 Dr. Deepak J. Tilak
Vice-Chancellor
Tilak Maharashtra Vidyapeeth was established in 1921 under the guidance of Mahatma Gandhi, as the educational memorial of Lokmanya Tilak, the great patriot and leader of the freedom struggle. Since its inception, the Vidyapeeth has focused on fulfillment of Lokmanya's dream of imparting national education that would equip a large number of students to contribute productively towards the development of a strong modern India
Tilak Maharashtra Vidyapeeth has constantly catered to the changing needs of the society without compromising on quality and prime focus. In recognition of the contributions made by the Vidyapeeth in the fields of Sanskrit, Ayurveda, Social Sciences and Distance Education, the Government of India conferred the status of a Deemed University upon Tilak Maharashtra Vidyapeeth in 1987, in accordance with the provisions in the University Grants Commission Act, 1956.
In addition to academic programs that cherish our Indian Heritage, the Vidyapeeth has also stepped into the field of Modern Sciences and has launched the faculty of Modern Sciences and Professional Skills.
Under this faculty, the Vidyapeeth offers a wide range of courses in the fields of Engineering, Biotechnology, Microbiology, Management, Computer Sciences, Physiotherapy, Hotel Management, Mass Media etc. with relevant value added inputs. Tilak Maharashtra Vidyapeeth provides the latest state-of-art infrastructure facilities in the form of spacious classrooms, laboratories, library with internet facility, an ultra modern studio and well maintained hostels.
Above all,Tilak Maharashtra Vidyapeeth has a consortium of highly qualified and dedicated teaching faculty, always striving towards building up of a strong theoretical and practical knowledge background among students, which would ultimately enable them to achieve soaring heights in their professional careers. The various courses will open up a number of avenues for students for higher education in related fields both in India and abroad and will also provide them with better job opportunities in the academic as well as industrial sectors.